ADS - Testimonies
_____
Outstanding results ! The performances we measured in flight testing the Mission M212 match exactly the predictions of ADS. We used ADS to optimize the configuration of the M212. ADS is a very capable tool and a great help for making decisions. Subsequently, we have used ADS extensively for the development of the Mission M106 Light Sport category aircraft. ADS definitely has a big influence on the engine choice, and from the success of the M106, you can say, that ADS can really make the difference !
Since, we use ADS for every design project, whether it is a completely new design from scratch or just a modification to our existing aircraft. Congratulations to the technical staff at OAD!
ADS is definitely a top quality program and a worthwhile investment !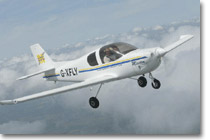 Adjacent, the Mission M212 in flight and on the ground. The M212 was the winner of the Light Aircraft Design Competition, organised by the Royal Aeronautical Society (UK). This robust and spacious four seater is now on the market as a kit category aircraft.
More information can be found on the website of Lambert Aircraft Engineering.
Filip Lambert, Managing Director, Lambert Aircraft Engineering (Belgium), April 2006
_____
... after several tests with ADS, and having compared with Advanced Aircraft Analysis and Visuaero, my conclusion is that the results from ADS are perfectly comparable to those of the other software packages. On the other hand, ADS is very user friendly
I can only recommend ADS and the ratio price/performance is excellent.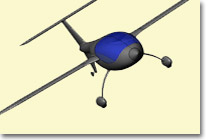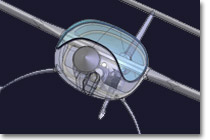 Adjacent, 2 views of the Stellar One, a new project of a high performance aircraft by Ing Bernard Clausen of the Haute École d'Ingénieurs du Valais. ADS was mainly used to analyse the longitudinal stability of the aircraft.
Ing Bernard Clausen, HEVs Sion (Switzerland), January 2006

_____
...I am really pleased with all the advice I got. Thank you for your professional attitude and dealing promptly and efficiently with my request.
René Magagna, Chalonvillars (France), December 2005

_____
I am an undergraduate at SUPAERO, Toulouse, and got to use ADS for my research thesis, in which I was tasked with the preliminary design of a business jet.
ADS has been a very useful tool and entirely met my expectations. It's very user friendly and the user interface is very user friendly. ADS will let you play with a large number of parameters.
I am convinced that the excellent value for money, the ease of use and the multiple functionality will seduce many users.
I would like to point out the excellent technical support you get.
I can only recommend ADS to anyone interested in the design of light aircraft.
Yukito Kawakami, Bruxelles (Belgium), September 2005