ADS - Aircraft Design Software
Overview
ADS can be used to:
Understanding
the design process of products in general
Understanding
more specifically the design process of an aircraft
Trying out
new ideas or new concepts
Exploring
all the flight conditions of an existing aircraft
Studying
the impact of modifications on an existing aircraft

5 versions available for everybody




Click on the links below to view:
ADS for everybody!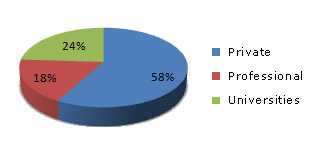 ADS customer profile :
- 58% Private use
- 18% Professional use
- 24% Academic use (Universities)
ADS is particularly suitable for aircraft designers, homebuilders, university staff and students, as well as for pilots and future aircraft owners.
If you are an homebuilder, ADS is the tool you need. You want to design or modify a light aircraft and you need an efficient and inexpensive work tool. You do not wish to spend time learning to use complex software and you are looking for something user-friendly. ADS makes it possible for you to size the dimensions of your future aircraft, without any fuss and at a very low cost, while ensuring the greatest chance of success.
If you are a professional aircraft manufacturer, ADS is the tool you need above all others. You want to design aircraft and you need an efficient, fast and accurate tool to analyse the market and design the best product in the least possible time; the product which best meets your specifications. ADS enables you to achieve optimisation, i.e. to find the best configuration of the aircraft at the planning stage so that it meets the requirements of the specifications with maximum efficiency and in as short a time as possible.
If you are student or teacher, ADS is a tool perfectly tailored to your needs. You want to understand and explain. ADS is of considerable assistance in providing a better understanding of the aircraft design process, viewing the effects of a parameter variation on aircraft geometry and performances, apprehending aircraft design in a comprehensive way, teaching both the interest of the analytical approach where everything is broken down to the smallest detail and the synthetic approach where all the details form a whole.
If you are a future owner, ADS is an excellent decision-making tool. You want to analyse to be better able to choose. ADS helps you to make the best choice from among all the aircraft available on the market and to choose the aircraft that best fulfils your wishes from the cost and performance point of view.
If you are a pilot, ADS will soon become an excellent companion. You want to understand to be able to fly better. ADS enables you to better understand the flight characteristics of your aircraft by providing you with clear and precise explanations through graphs and tables. ADS will also make it possible for you to plan flight tests and analyse their results.