ADS - Aircraft Design Software
FAQ
Below are the answers to some questions which have been asked about ADS
Could you tell me how to define the language (french or english) ?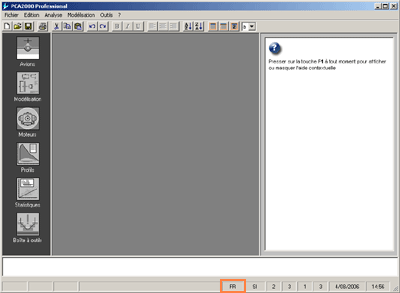 The choice of the language is done by a simple click with the mouse on FR or EN displayed on the status bar (cf. framed on the image here attached). The shift from one language to the other is done automatically.
ATTENTION, this can however be done only when the main window is empty (no other window displayed).
I can not install ADSDemo, and get the following mesage:
"...\ADSDemo.exe is not a valid WIN32 application."
Your ADS Demo file may have been corrupted when downloading. Try once more to download the Demo version and install it on your PC.
I can not download the ADS demo version. When I click the Order button to start downloading, nothing happens!
It is possible that your antivirus software prevents downloading ADS. In this case, you can temporarily switch off your antivirus program while downloading. We guarantee that the file you download is free from viruses
W

ill ADS be able to run on an Apple Mac? I gave up PC's a few months ago

?
ADS can be used on an Apple MAC but you have to run windows on it, using Boot Camp for example.
(http://www.apple.com/macosx/features/bootcamp.html)
Can you arrange for me to contact another ADS user ?
No problem, provided (s)he is willing to talk to you. Please provide us with a brief description of your project and we will ask someone with a similar project to yours to contact you.